The Mission of Phillips United Methodist Church is
to be the hands and feet of Jesus in the modern world
by sharing the story and hope of the Gospel of Jesus
and God's universal love.
God's grace is everywhere and for everyone
Traditional Worship – Sundays 9:00 – 10:00 am
Fellowship Time – Sundays 10:00 – 10:30 am
Sunday School – Sundays 10:30 – 11:30 am
Thursday Night Live – Thursdays 7:00 – 8:00 pm
LIVE
on Sunday Mornings
from 9:00-10:00am MST
(Almost) Daily Reflections
with Rev. Melinda Baber
Click here
Food Bank of the Rockies
Tuesday, December 5th, 2023
Food distribution begins around 3:00
Please do not line up before 1:00pm.
Volunteers arrive at 1:45pm.
The truck should arrive around 2:00pm, then the food will be unloaded from the truck

and boxed before we can begin distribution. This takes about an hour!

Be advised, you will be asked to turn off your engine while you wait in the parking lot.

Pro tip: The line moves quickly – especially by 3:30pm!

Parking lot will be completely closed in the morning – no early line-up.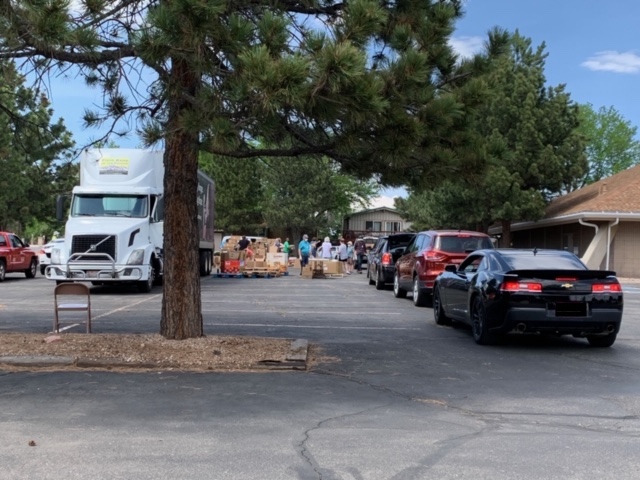 Drive through pick up of food –
Enter from east entrance at Otis Street.

Stay in your vehicle.

Volunteers will load the trunk.
Walk up service for those without vehicles –
Pick up on west side of building.

You will have to carry your own boxes.

No assistance is available.
Community Dinner
Wednesday, December 27,
at 6:00pm
Join us on the last Wed
nesday of each month to enjoy the food and fellowship. All are welcome! Food is served from 6:00pm until 7:00pm or until it's all g
one.