Alert:
Due to the Covid-19 restrictions, Phillips UMC is making a phased re-opening.
Please call first to visit the church office.
Services are in-person on Sunday mornings 9:00-10:00am.
Masks are required to attend the in-person services.
Reservations are no longer required!
In-person Services at Phillips
Sunday mornings from 9:00 – 10:00


Masks are required.

Social distancing will be maintained.
Drive-through Communion
The first Sunday of each month
from 10:30 – 11:00am
Masks are required

Stay in your car

Communion elements are distributed in a clean, sealed container.
Pentecost Season -When the Spirit Moves
When the Spirit moves, amazing things happen. But they happen through the people who allow that Spirit to motivate them, to guide and direct them, to empower them for the work of making disciples for Jesus Christ for the transformation of the world. This isn't a small thing, not just a personal, in-house thing. This is a transforming the world thing. And all would agree that our world needs transformation. This series is about what can happen when a people submit to the Spirit. It is a journey through the Bible that will help us see and understand how to be a Spirit-filled people of God. We are equipped to be communities of faith who are ready to go when the Spirit moves.
Recorded Worship Services at Phillips UMC
For those who prefer to worship from the safety and comfort of their homes, we are providing a video version so we can still have the shared experience of worship. While it is no substitute for the welcoming hugs and handshakes that usually accompany our services, we hope that it can provide some comfort and inspiration. May God be with you wherever you are!
Please click on the service below, then click again to start the video.
To see our older videos, click here:

This will open our "Phillips UMC Worship Videos" YouTube Playlist in a new tab.
Food Bank of the Rockies
Tuesday, July 6
Food distribution begins around 3:00pm
Please do not line up before 1:00pm.
Volunteers arrive at 1:45pm

The truck should arrive around 2:00pm, then the food will be unloaded from the truck

and boxed before we can begin distribution. This takes about an hour!

Be advised, you will be asked to turn off your engine while you wait in the parking lot.

Pro tip: The line moves quickly – especially by 3:30pm!
Please note that due to the Covid-19 pandemic, this is a drive-through distribution:
Parking lot will be completely closed in the morning – no early line-up.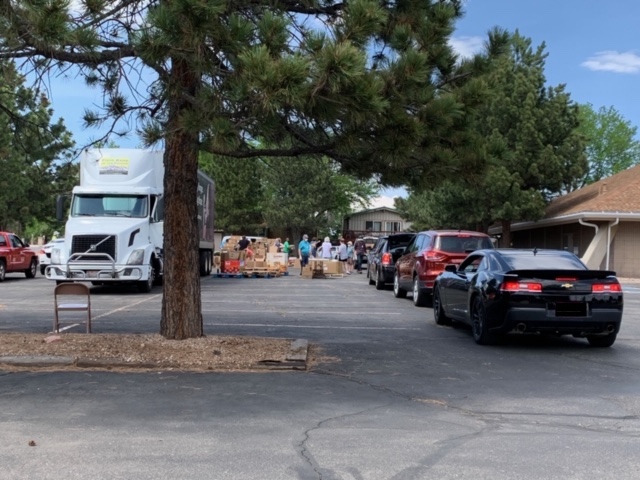 Drive through pick up of food –
Enter from east entrance at Otis Street.

Stay in your vehicle.

Volunteers will load the trunk.
Walk up service for those without vehicles –
Pick up on west side of building.

You will have to carry your own boxes.

No assistance is available.
God's grace is everywhere and for everyone
Traditional Worship – Sundays 9:00 – 10:00 am
Thursday Night Live – Thursdays 7:00 – 8:00 pm
Click here for details!